https://store.interstateproducts.com/products/Rust_Control - Sarasota, FL — Interstate Products Inc. (IPI) providesTips & Advice to help its customers make the right decisions.
Handling Rust – Convert or Remove?
The first thing to consider about a rusted object is: "How you will use it?"
If you want the end result to be exposed, bare metal, then a rust remover is better suited for the task. For example; an old hand tool, like a wrench or screwdriver. If you will eventually paint the object – such as the outside of a storage tank, automotive body part or frame, a fence railing – a rust converter and primer all-in-one is probably best.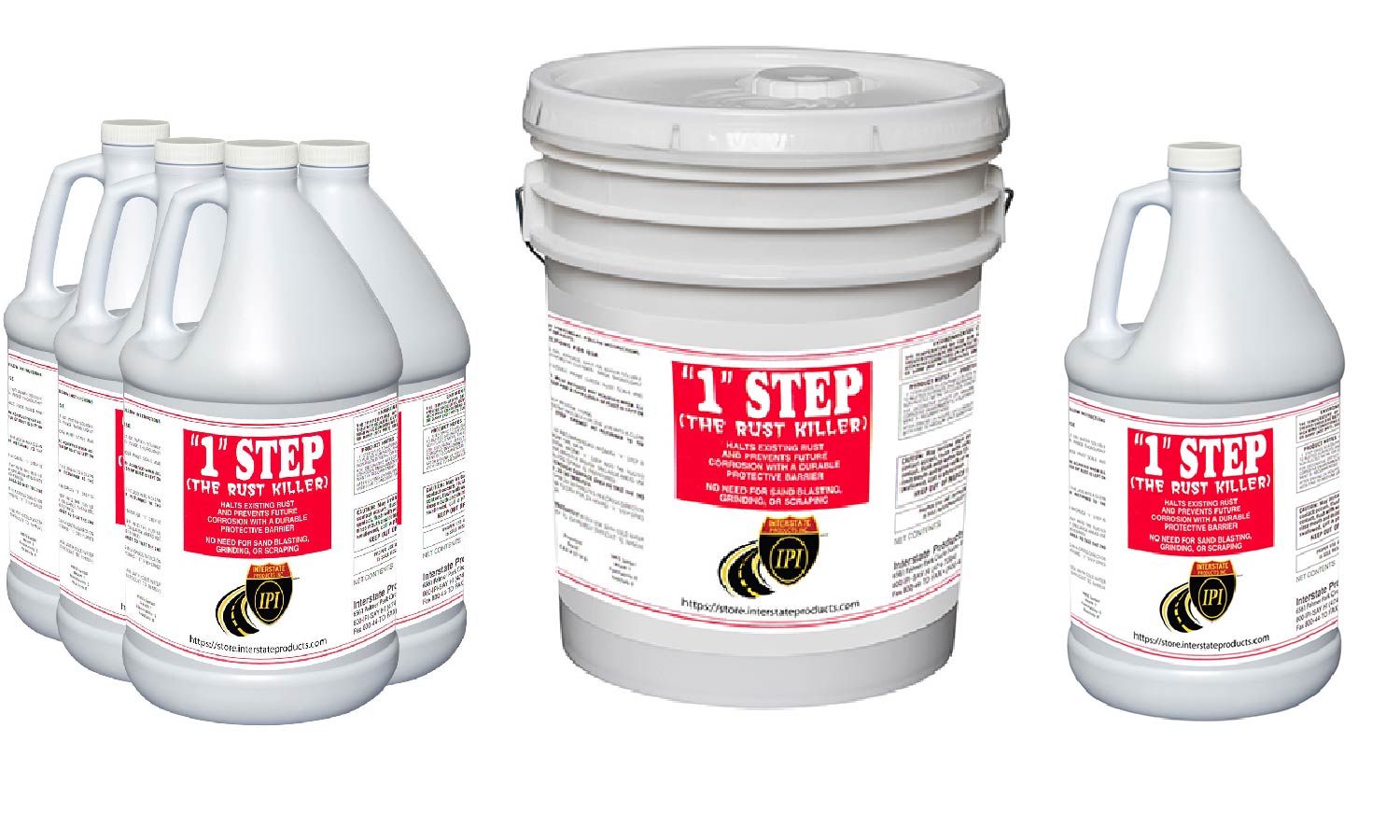 For a bare metal finish you can use acids, a wire brush, a power drill, a grinder or a sand-blaster. Most acids are extremely corrosive and hazardous, so local and federal regulations need to be consulted, as well safety requirements for storage and handling. Also, acids take longer because they need to soak in to eat away at the rust.
If you don't need a bare metal finish then a rust converter may be the best choice. These products actually convert the rust to a non-ferrous substance so the rust is gone. If desired, it can be sanded, painted and body puttied.
IPI has been recommending "1" Step Rust Killer for more than 20 years; it is one of our most popular products with a favorable customer rating of over 97%. Prep time is minimal and it dries in about 30 minutes. It is non-toxic and contains zero VOC or HAP.
About Us:
Since 1996, Interstate Products, Inc. has become a global multi-brand supplier of quality environmental, maintenance and safety product solutions to industrial, commercial, institutional, military, and various government organizations. Since its inception, IPI has experienced tremendous growth fueled by our commitment to continuously add innovative new products to meet the demands of a rapidly expanding and diverse customer base. In addition to being a leading provider of spill containment berms and flexible storage tanks – available in both standard and custom sizes, we also supply safety cabinets, absorbents, environmentally friendly chemicals, material handling and other safety products. Information about these and other quality products can be obtained by visiting our company website at: https://store.interstateproducts.com/
For more information, please contact Interstate Products at 6561 Palmer Park Circle Suite A
Sarasota, FL 34238 or call toll free 1-800-474-7294 for domestic inquiries and 941-377-8610 if outside the United States.
The company's email address is services@interstateproducts.com and the website location for Rust Killer is https://store.interstateproducts.com/products/Rus...


Interstate products offers this information to the best of it's knowledge. Interstate Products Inc. accepts no liability whatsoever for accuracy and always refers questions to the local governmental authorities in the in users area or the governing source of the information.
About the Author: Richard Eisenberg

Born in the early 1960s, Richard Eisenberg grew up in the age of the Apollo program and spent his youth following his father's notions of Environmental happenings going on in the Northeast United States. In 1969 the Cuyahoga River Fire captured Rich's attention; his understanding that water puts out a fire, how can fire exist in or on-top of the water? This question got Rich on a path of curiosity and Environmental awareness at a very early age.

"News about a burning river was a signal that something had gone very wrong with the environment."

William Kovarik, environmental policy historian and communications professor, Radford University

Since the early 1980's, Rich has worked in the Environmental Safety Solutions industry. Providing Environmental Solutions for Railroads, Shipping yards, Government & Civilian for Secondary Containment and Oil Leak Prevention throughout US, Canada, Mexico and many countries abroad.

"My experience in dealing with tens of thousands of applications of Spill Containment, Facility Protection, Safety & Storage as well as supervising a staff of individuals providing a multitude of product solutions allows me the ability to draw on a vast amount of projects to find the right products for the clients applications. As an added value for IPI Clients, we are able to draw upon our partners and network of brand name and experienced manufacturer's."

Rich Eisenberg, Founder / Owner Interstate Products, Inc.
Recent Posts
Sarasota, FL — Interstate Products Inc.(IPI) continues to expand our spill containment berm produ …

IPI L Bracket Spill Containment Berms provide space saving portable spill containment when and whe …

Spill pallets are used for storage and secondary containment of drums, pails, totes, tanks, and mor …