Liquid Ice Melt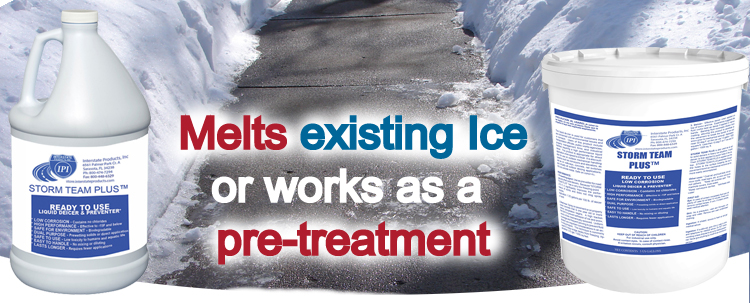 LIQUID ICE MELT & DEICERS @IPI : BUY STORM TEAM LIQUID ICE MELTER NOW WITH FREE SHIPPING
Shop Online Below or Call Us at 1-800-474-7294. Since 1996 -IPI has been your proven liquid ice melt supplier. Storm Team Liquid Ice Melt continues to be our most popular ice melter product and has been for decades.
It is one of the safest and most fast acting effective liquid ice melts on the market today. Put simply - "this ice melt works great" for Long Lasting ice control in freezing weather.
This Fast Acting Ice Melt Protects your concrete, property and personnel with a liquid ice melt that is less corrosive than water. No housekeeping worries with Storm Team Liquid because it does not track that white messy residue all over carpets and floors. Our clients come back year after year for Storm Team Liquid Ice Melt because it works safely & is highly effective on existing ice or as a pre-treatment. Economical coverage up to 500 square feet on existing ice or up to 1200 square feet as a pre-treatment.
Storm Team Liquid Ice Melt Recommend uses

:
Properly Cured Concrete that is 1 Year Old Or More • Asphalt • Gravel • Wood • Driveways • Sidewalks • Steps • Construction Sites • Equipment • Cables • Satellite Dishes • Loading Docks • Pavers • Garages • Locks • Gutters • Non-porous roofs • Parking Lots • Job sites and more!
Storm Team Ice Melt has NO Alcohol, NO Salt - NO Brine, NO Chlorides and NO Magnesium and NOTHING Hazardous. This offers the advantage of being less aggressive on soils and less corrosive.
Available in jugs, pails, drums, totes and tankers. Shop online below and/or call 1-800-474-7294 for questions and check on bulk discounts. Learn the IPI difference where we offer unsurpassed service on every product we carry. Also available: runway deicers for airports. End Users & Re-Sellers Always Welcome.