Liquid Ice Melt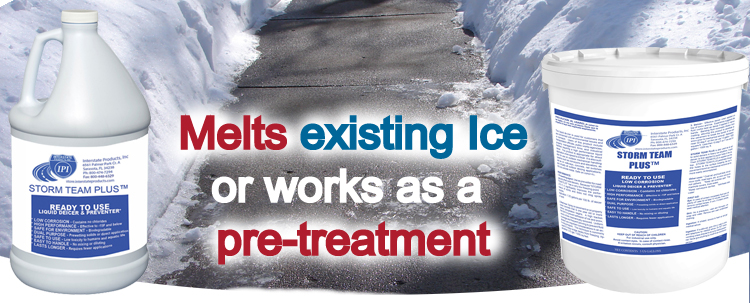 LIQUID ICE MELT & DEICERS @IPI : BUY STORM TEAM LIQUID ICE MELTER NON CHLORIDE -FREE SHIPPING
Shop Online Below or Call Us at 1-800-474-7294. Since 1996 -IPI has been your proven liquid ice melt supplier. Storm Team Liquid Ice Melt continues to be our most popular ice melter product and has been for decades. It is one of the safest and most fast acting effective liquid ice melts on the market today. Put simply - "this ice melt works great" for Long Lasting ice control in freezing weather.
This Fast Acting Ice Melt Protects your concrete, property and personnel with a liquid ice melt that is less corrosive than water. No housekeeping worries with Storm Team Liquid because it does not track that white messy residue all over carpets and floors. Our clients come back year after year for Storm Team because it works safely & is highly effective on existing ice or as a pre-treatment. Economical coverage up to 500 square feet on existing ice or up to 1200 square feet as a pre-treatment.
Storm Team Liquid Ice Melt Recommend uses

:
Melt Ice Fast on Properly Cured Concrete that is 1 Year Old Or More • Asphalt • Gravel • Wood • Driveways • Sidewalks • Steps • Construction Sites • Equipment • Cables • Satellite Dishes • Loading Docks • Pavers • Garages • Locks • Gutters • Non-porous roofs • Parking Lots • Job sites and more!
Storm Team Liquid Ice Melt has NO Alcohol, NO Salt - NO Brine, NO Chlorides and NO Magnesium and NOTHING Hazardous. This offers the advantage of being less aggressive on soils and less corrosive.
Available in jugs, pails, drums, totes and tankers. Shop online below and/or call 1-800-474-7294 for questions and check on bulk discounts. Work with our experienced reps and - Learn the IPI difference where we offer unsurpassed service on every product we carry. Also available: runway deicers for airports. End Users & Re-Sellers Always Welcome. 25 years in business, & over 3500+ FIVE-★★★★★ Star Third Party Client Reviews, allows you to confidently Buy @ IPI.



Winter is approaching us very soon and so naturally, we all worry about facing the dreaded pile of snow heaped outside our doorway. Fortunately, though, we have many solutions to those pesky mountainous piles of ice sitting outside our homes blocking our driveways and sidewalks, one of them being; Interstate Products Inc.'s (IPI's) Ice Melt products.
Winter Storm Outlook
Source: Weather.gov
Interstate Products' history dates back to the 1990s when we first started delivering ice melting solutions to your doorstep. With over 20 years of experience in the field of ice melting, Interstate Products has surely earned a name for itself as one of the best go-to professional results snow-melting solutions. The most well-renowned products are the Storm Team Liquid Ice Melt and Green Fire Ice Melt – both deicers escalated the company's reputation and popularity over the years.
These deicers are environmentally-friendly non-damaging liquids and pellets for driveways, parking lots and sidewalks that are designed to rapidly melt ice or snow. They are non-corrosive, fast-acting, non-toxic and non-flammable liquid chemicals that are keenly used as preventative measures for snow and ice build-up on surfaces.
Among Interstate's line of products lies many other snow-melting options; one of them being the sodium chloride blend ice melt pellets. These ice melt pellets are notable for being for melting ice on concrete surfaces; therefore they work best for driveways, sidewalks, porches, and patios. Sodium chloride in these deicers is fast-acting, which means they need to be used carefully and in small quantities.
You might think sodium chloride to be a harsh substance but with Interstate Products, it is completely harmless when in contact with trees, lawns, and shrubs. The only thing you need to keep mindful of; don't use these deicers on concrete that is less than one year old.
We recommend our sodium chloride blend ice melt pellet to be used on not only concrete but also wood, gravel, gutters, garages, locks and asphalt to name a few.
Interstate's Green Fire Ice Melt pellets are also on the top-ranking ice melting products and are one of the fastest and safest snow and ice pellets available in the market. The great thing about Green Fire is that like their other counterparts, they too are environmentally friendly and non-damaging, making them great for floors and carpets as well as hard concrete surfaces. If you are looking for professional results then look no further.
These 50 lbs bags of ice-melting goodness are excellent options for when you need to prevent any freeze damage on your concrete surfaces thanks to its freeze-thaw properties. The green color lets you know where it has been applied and prevents any sort of steel corrosion or aluminum rusting which are factors commonly found in many other ice-melting agents.
In addition to its impressive arsenal, IPI has also added vendors and now supplies Airport Approved deicers and calcium magnesium acetate pellets. We also supply various versions of ice and snow-melting pellets comprised of many materials and application techniques.
All of IPI's Ice Melt products are shipped from New York, Ohio, and Wisconsin and include ice melting blends from both New Jersey and Wisconsin. IPI's products include ingredients such as sodium acetate, magnesium chloride, liquid calcium chloride, potassium chloride, propylene glycol as well as many other chemicals depending on which product is being ordered.
Storm Team Liquid Ice Melt is available with free shipping. It works both as a snow and ice melter as well as snow and ice pre-treatment. CMA in fact is the only ice melt solution at Interstate Products that can and should be used on concrete less than a year old.
Some of the other high quality Brand ice melters include blue heat and Frosty's nightmare and these two items are strategically ready for shipment in Long Island New York and in New Jersey. If you are further out west we can utilize other ice melting compounds shipping from Wisconsin and OH.
Interstate Products Ice Melt Experts are trained to provide quick deliveries, low price freight rates and Bulk prices for volume users. You may want to order products online or call 1-800-474-7294 for personal service.
Users include construction sites, oil companies, institutions, airports, power companies, universities, as well as residential users.
To get more information on Ice Melting products, checkout the website at https://store.interstateproducts.com/products/Ice_Melts or call us at <1-800-474-7294 /
Read More