Fire Marshall on your mind? No worries, when you need a 45 gallon flammable cabinet look no further then IPI. We provide cabinets from brands you can trust. IPI carries Justrite, Eagle, Securall and Jamco manual and self closing flammable cabinets. Multiple manufactures helps IPI saves it's clients big dollars on freight savings. "Get industry leading product support and bulk discounts on every flammable cabinet we sell" says company President, Rich Eisenberg. At IPI you will find your products easily or contact us for help. Many size cabinets are available from 2 gallon up to 120 gallon cabinets. IPI helps you meet the codes. Like to compare? Leading the way is the Justrite 894500 and Eagle Model 1947X Flammable Storage Cabinet. Specifications: Storage Capacity: 45 Gallons Door Specs: manual
Approvals: FM Approved Compliance: NFPA Code 30, OSHA
MFG: Eagle MFG 45 gallon.
Justrite 894500 Flammable Safety Storage Cabinet Specifications: Capacity: 45 Gallon Cabinet Number of Doors: 2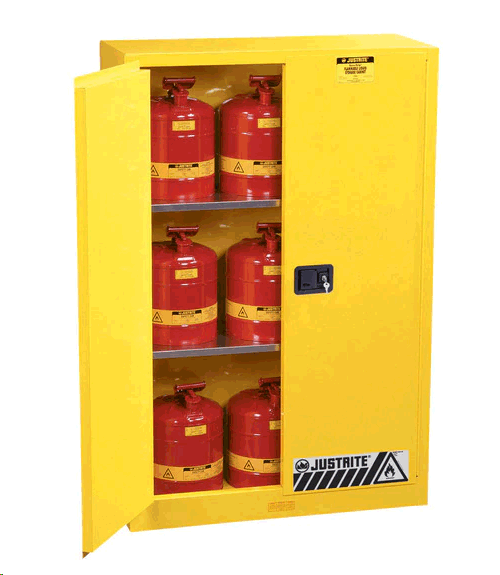 Approvals: FM Compliance: NFPA, OSHA Weight: 311 lbs.
Many other manual nd self closing models available all at big savings. If an outdoor 45 gallon flammable cabinet is needed, IPI can help again. Be sure to check out the sales on the Securall Weatherpoof cabinets
Intestate Products has been providing solutions since 1996. IPI has unsurpassed product support on every flammable cabinet we sell. Contact IPI today for more information.
Recent Posts
FOR IMMEDIATE RELEASE Eagle Manufactur …

Fire Marshall on your mind? No worries, when you need a 45 gallon flammable cabinet look no furth …

Pillow Tanks @ IPI. What is new? IPI standard water tanks all come with ground mats, which are un …