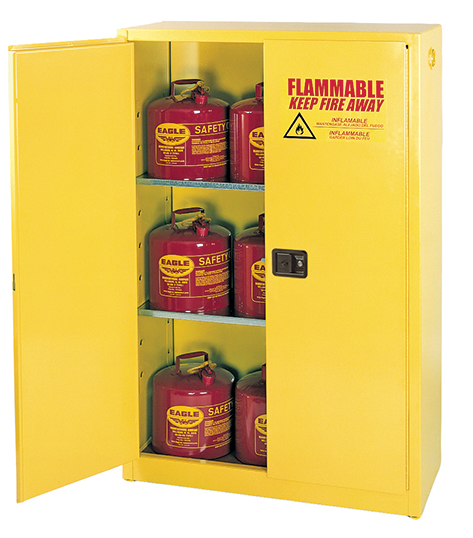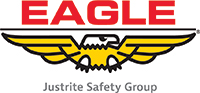 FOR IMMEDIATE RELEASE
Eagle Manufacturing Upgrades Their Quality Flammable Cabinets
Eagle Manufacturing – a Justrite Group Company – has begun manufacturing their newly designed metallic safety cabinet product line. Their highly rated flammable cabinets have been enhanced with the following features:
Concealed self-close mechanism provides obstruction-free access to top shelf space
Self-indexing doors close in sequence and ensure a tight closure from top to bottom
Self-closing cabinet door(s) open to 135 degrees for easier cabinet access
Three-point stainless steel bullet latching system provides fail-safe, positive door closure with increased heat and corrosion resistance
Patented, adjustable galvanized steel shelves direct spills to back and bottom of leakproof sump
Shelves adjust on 3 in (7.6 cm) centers to give you more flexibility when organizing your cabinet
Astragal on cabinet door(s) provides extra stiffness and increased heat resistance
Ten-year limited warranty
You can now buy the New Eagle Safety Cabinets at Interstate Products Inc. (IPI) at everyday low prices with great service.
We invite you to explore our Eagle Safety Cabinets, as well as, the Justrite Safety Cabinets (and others) on the Interstate Products website at: https://store.interstateproducts.com/products/Safety-Cabinets.
Clients ask us questions and we answer like below.
What are the requirements for a flammable cabinet? Approved metal storage cabinets will be acceptable. Cabinets shall be labeled in conspicuous lettering, "Flammable-Keep Away from Open Flames." Not more than 60 gallons of Category 1, 2 and/or 3 flammable liquids or 120 gallons of Category 4 flammable liquids shall be stored in any one storage cabinet.
Are flammable cabinets fireproof?
To help protect your people and facility from a potential fire, industrial safety cabinets are engineered to safely contain flammable fuels, solvents, and chemicals. These fire safe cabinets serve several critical functions: Keep dangerous liquids safely organized and segregated.
What is the purpose of a flammable storage cabinet?
If you are storing certain liquids or materials, these cabinets comply with OSHA and the National Fire Protection Association regulations. Flammable cabinets are used to protect flammable contents for a certain amount of time during fire conditions.
Why do I need a flammable cabinet?
One of the most critical safety reasons for storing flammable chemicals in safety cabinets is that many chemicals can cause explosions in scenarios (such as a fire) in which they are exposed to high heat. Under these circumstances, a flammable safety cabinet can help contain the explosion and minimize its damage.
How do flammable storage cabinets work?
The primary objective of a flammable liquid storage cabinet is to protect its contents from a fire on the outside. If the cabinet is ventilated, a flame, spark or ember could potentially enter the cabinet and set ablaze its contents.
Are flammable cabinets explosion proof?
Cabinets: Explosion Proof cabinets are used to store hazardous substances, such as flammable liquids and chemicals. They have several fire-safety features, such as sturdy steel enclosures for containing explosions and air vents for maintaining safe interior temperature levels.
Since 1996, Interstate Products, Inc. (IPI) has become a global multi-brand supplier of quality environmental, maintenance, storage, safety and facility product solutions to industrial, commercial, institutional, military, and various government organizations. Since its inception, IPI has experienced tremendous growth fueled by our commitment to continuously add innovative new products to meet the demands of a rapidly expanding and diverse customer base. In addition to being a leading provider of spill containment berms and flexible water and fuel bladders and pillow storage tanks – available in both standard and custom sizes, Interstate Products also supplies top of the line IBC and spill pallets, spill kits, outdoor drum storage, flammable safety cabinets and other safety cabinets, absorbents, material and drum handling equipment, storm water products. Additionally, IPI features water bladders and fuel bladders for storage from multiple vendors – available online or by contacting our knowledgeable sales team at 1-800-474-7294.
Information about these and other quality products can be obtained by visiting our company website at https://store.interstateproducts.com/
Interstate Products differentiates itself with outstanding customer service and a wide array of top of the line manufactures in our key product lines to provide an optimum customer experience. IPI has the highest customer satisfaction rating in the industry.
For more information, please contact Interstate Products at 5585 Marquesas Circle Unit 10-C Sarasota, Florida 34233 or call toll free at 1-800-474-7294.
Recent Posts
FOR IMMEDIATE RELEASE Eagle Manufactur …

Fire Marshall on your mind? No worries, when you need a 45 gallon flammable cabinet look no furth …

Pillow Tanks @ IPI. What is new? IPI standard water tanks all come with ground mats, which are un …