Interstate Products Inc. Announces New Line of UltraTech Outdoor HardTop Spill Containment Pallets now in steel. Interstate Products has announced their New line of Steel UltraTech HardTop Spill Pallets with economical pricing Part # for Steel include 1180, 1184, 1186. The Ultra Outdoor Hard Top Spill Pallets provide polyethylene storage units for quite some time but now the good, just became better. Both the poly and steel pallets keep the elements out and prevent unauthorized access. These rugged products are excellent for containment storage of outdoor 55 gallon drums, tanks and IBC's.

The Ultra Hard Top Spill Containment pallets are offered in 2, 4, 8, 16 and 20 drum units. With the larger hard top units, there is some installation required and the Interstate Products' expert staff is always available with instructions.
Part # for poly include 9612, 9613, 9637, 9636, 1081, 1083,9655, 9654 and many more. Check back soon for more updates.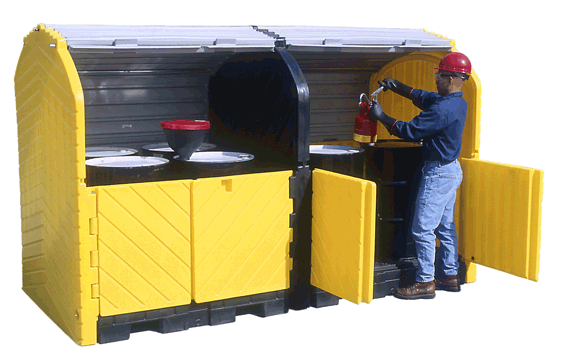 We invite you to explore our Ultratech Outdoor Hard Top Drum Storage pages on the Interstate Products website at: https://store.interstateproducts.com/products/Ult...
Need assistance or bulk discounts, Interstate Products knowledgeable & friendly team is here to help you. On the Interstate website you may
"These steel HardTops make a great addition to the poly HardTops for our clients" says Dana Kirby the Interstate Products Sales Manager.
Interstate Products has carried the Ultratech International product lines proudly and now enhances it even further.
"Ultratech is a great company to work with. They always go out of their way to help us meet client demands with quality service and products. Constantly bring new helpful products to the market" says Rich Eisenberg Interstate Products Inc. President.
Since 1996, Interstate Products, Inc. (IPI) has become a global multi-brand supplier of quality environmental, maintenance, storage, safety and facility product solutions to industrial, commercial, institutional, military, and various government organizations. Since its inception, IPI has experienced tremendous growth fueled by our commitment to continuously add innovative new products to meet the demands of a rapidly expanding and diverse customer base. In addition to being a leading provider of spill containment berms and flexible water and fuel bladders and pillow storage tanks – available in both standard and custom sizes, Interstate Products also supplies top of the line IBC and spill pallets, spill kits, outdoor drum storage, flammable safety cabinets and other safety cabinets, absorbents, material and drum handling equipment, storm water products. Additionally, IPI features water bladders and fuel bladders for storage from multiple vendors – available online or by contacting our knowledgeable sales team at 1-800-474-7294.
Information about these and other quality products can be obtained by visiting our company website at https://store.interstateproducts.com/
Interstate Products differentiates itself with outstanding customer service and a wide array of top of the line manufactures in our key product lines to provide an optimum customer experience. IPI has the highest customer satisfaction rating in the industry.
For more information, please contact Interstate Products at 6561 Palmer Park Circle Suite A, Sarasota, FL 34238 or call toll free at 1-800-474-7294.
About the Author: Richard Eisenberg

Born in the early 1960s, Richard Eisenberg grew up in the age of the Apollo program and spent his youth following his father's notions of Environmental happenings going on in the Northeast United States. In 1969 the Cuyahoga River Fire captured Rich's attention; his understanding that water puts out a fire, how can fire exist in or on-top of the water? This question got Rich on a path of curiosity and Environmental awareness at a very early age.

"News about a burning river was a signal that something had gone very wrong with the environment."

William Kovarik, environmental policy historian and communications professor, Radford University

Since the early 1980's, Rich has worked in the Environmental Safety Solutions industry. Providing Environmental Solutions for Railroads, Shipping yards, Government & Civilian for Secondary Containment and Oil Leak Prevention throughout US, Canada, Mexico and many countries abroad.

"My experience in dealing with tens of thousands of applications of Spill Containment, Facility Protection, Safety & Storage as well as supervising a staff of individuals providing a multitude of product solutions allows me the ability to draw on a vast amount of projects to find the right products for the clients applications. As an added value for IPI Clients, we are able to draw upon our partners and network of brand name and experienced manufacturer's."

Rich Eisenberg, Founder / Owner Interstate Products, Inc.
Recent Posts
FOR IMMEDIATE RELEASE Eagle Manufactur …

Fire Marshall on your mind? No worries, when you need a 45 gallon flammable cabinet look no furth …

Pillow Tanks @ IPI. What is new? IPI standard water tanks all come with ground mats, which are un …