Justrite EcoPolyBlend 28676 DrumShed, 4 Drum Unit

Description

Justrite EcoPolyBlend 28676 DrumShed , 4 Drum Unit - Safe, Compliant Eco-Friendly Storage for Drums

EcoPolyBlend™ DrumSheds™ feature a weather resistant, robust design make of eco-friendly 65% recycled polyethylene. Convienient roll top dorrs allow access from front or rear. Wide door oopening of 52" proof pallet sump meets EPA and SPCC requirements and has removable, durable deck grating for easy clean up of spills. A spacious interior offers ample headroom for adding funnels or pumps. Safety features include grounding capability, integral anchor bolt locations for wind resistance, and mokded in lugs with accept padlocks for security. Forklift pockets front and back make it easy to relocate empty sheds. Ships fully assembled.

EcoPolyBlend™ DrumShed™ Specifications
Nominal Outside Dimensions: 60 ¾" x 68 ½" x 75 ¼"
Load Bearing Capacity: 5,000 lbs.
Sump Capacity: 79 Gallons
Compliance: EPA, SPCC, U, O
Ship Weight: 343 lbs.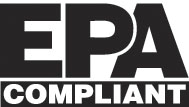 Click Here for other Justrite Manufacturing Products
Click Here for other options to the Justrite Manufacturing EcoPolyBlend Drum Sheds
View All
Close